An insightful interview with Christelle Lecuyer-Weber, Head of Talent at Alven, about the platform role and helping Alven's portfolio companies grow and scale
Interview between Ludwig Ritter, Co-founder of Sompani, and Christelle Lecuyer-Weber, Head of Talent at Alven.
Ludwig: How would you explain your job at Alven?
Christelle: My job is to help the startups we've invested in accelerate their growth. Startups in the early stages of their development are often confronted with critical HR challenges, whether related to Talent Acquisition, designing a balanced yet competitive Compensation & Benefits plan, or preparing for the long-term with a sound Organisation and Succession Plan. As Head of Talent at Alven, I support our portfolio companies with each of these challenges – however, hiring quality talent is definitely the top priority.
Ludwig: How did Alven become interested in a talent-sharing solution such as Sompani?
Christelle: Our portfolio is made of over 60 companies, most of which are scaling very quickly. With more than 800 open positions within our portfolio, it soon became obvious that, to help our portfolio in an impactful way, we needed to be able to address that scale, while not compromising on quality.
The great news is, we're lucky to work with the some of best Talent Acquisition teams on the market – we trust them to identify the best talents and recommend them to the community
With Sompani's solution, we're able to mutualise the hiring efforts of each company within our portfolio: when one of our startups meets with a high quality candidate, that goes through their hiring process but ultimately isn't hired, they can share the profile with the Alven Talent Pool, powered by Sompani – provided the candidate opts in to our program.
Oftentimes companies pass on candidates for very specific reasons (timing, location etc), and yet invested considerable budgets for candidate acquisition. By sharing candidates, candidate acquisition costs are significantly mitigated for companies. Moreover, knowledge about candidates (strengths & weaknesses, reason of no hire) can be shared on the platform, saving recruiters time.
This creates a virtuous circle for all the parties involved: the other companies in our portfolio can access candidates that are already screened and vetted, the candidates can access other exciting opportunities, which positively impacts the employer brand of the company they first were in contact with.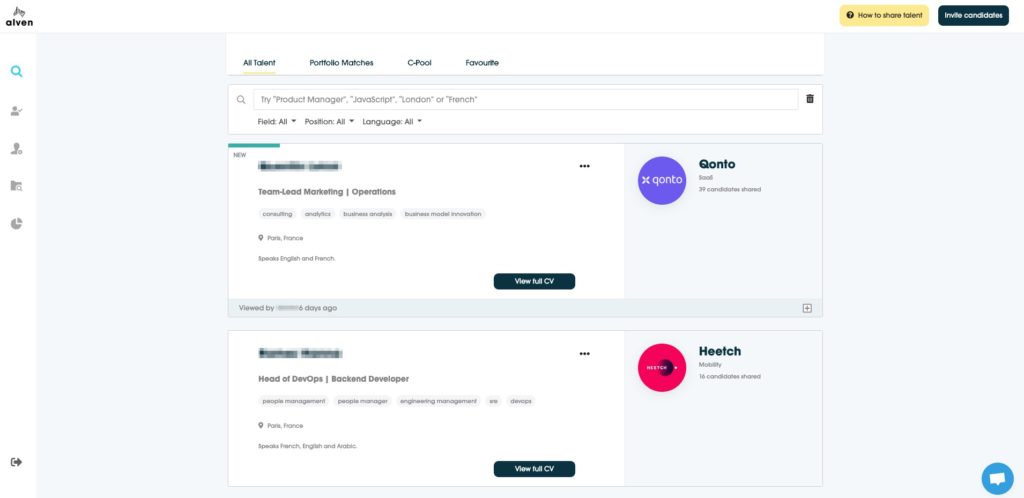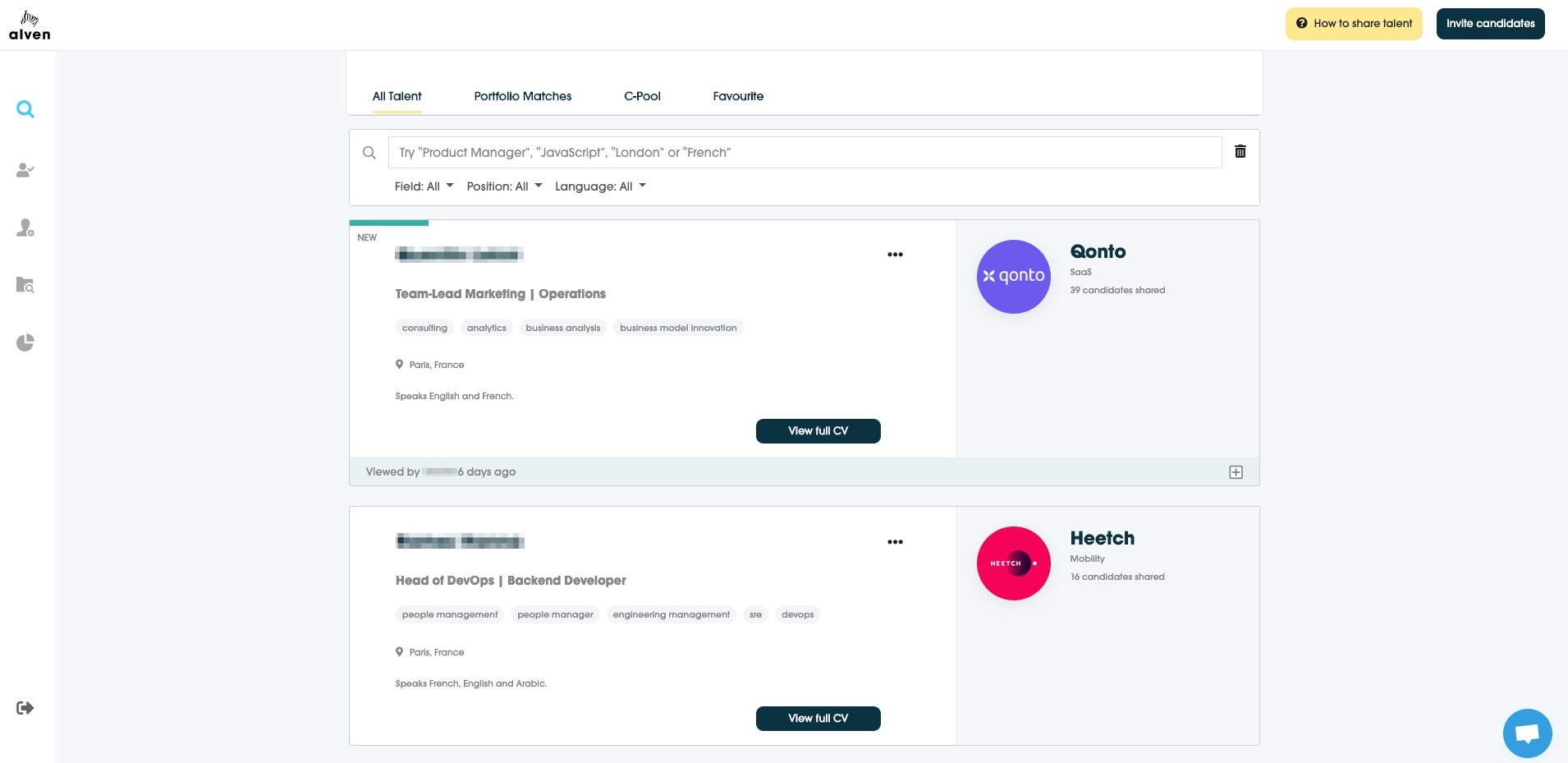 Ludwig: Alven is the first French VC to implement Sompani for its portfolio. How is that different from what other VCs are doing?
Christelle: Numerous initiatives have been launched to help startups on recruitment: talent letters, recruiters being hired by VCs internally. However, many startups agree that there is enough solicitation on the market.
At Alven, we value on-demand & tailor-made support rather than pushed communications. With the Sompani platform, our portfolio companies can access a pool of prequalified candidates as soon as they join our portfolio, and can at any time look for specific skills or experiences – all this free of charge. Combined to the hands-on support we provide, the Sompani platform helps our portfolio companies create a strong Talent-oriented launchpad right as they're scaling.
We're excited to bring this new capability to our startups, and we're continuously looking for new ways to better support them! We've recently developed with Sompani the Alven C-Pool, a specific talent pool geared towards C-Level candidates (all met by Alven before being selected), reserved to our companies' founders & leadership teams.
Ludwig: How would you describe working with Sompani?
Christelle: Great! The platform is super user-friendly for the portfolio companies, the candidates and Alven, and the team at Sompani is very responsive.
Being the first adopters of the solution in France, we've been able to exchange with Sompani and already develop custom features such the Alven C-Level Pool, and we're currently working on other improvements, such as improved monitoring of downstream hiring processes, and the integration with other popular hiring tools.
---