Alven Capital is proud to announce the successful acquisition of one its portfolio companies, Captain Train. The French upstart and its British heavyweight counterpart Trainline have agreed to join forces to offer train tickets across most of Europe. The transaction rewards 5 years of steady growth for Captain Train who has risen to become the go-to alternative to the massive incumbent Voyages-SNCF in France and had expanded to offer fares in Germany, Italy and 13 other countries. The service was opened to the public in 2011 after two years in private beta and quickly grew a loyal audience thanks to a streamlined UX and ticket prices free of any booking fees.
Building such a service may seem straightforward but appearances are deceptive. Negotiating access to SNCF reservation systems when it became open to competition was only one part of the challenge: the entire stack had to be built to "talk" to the system and manage bookings. Captain Train's team also created from scratch the itinerary and fare calculators for each new operator once they started adding Deutsche Bahn, Thalys… As opposed to plane tickets booking systems which were unified starting in the 1960's, rail systems lived in relative technological isolation until now because of stronger monopolies. Captain Train effectively built the equivalent of Global Distribution System for the entire rail industry.
The strategic value of such a deep expertise and integrated systems with partnerships across all of Europe wasn't lost on Trainline, whose own operations will benefit from Captain Train's innovative backend to cut on third-party expenses.
The new company will cement its position of European leader and keep working on offering travelers the best booking experience across all networks. The teams and founders will remain with Captain Train and work out of their Paris offices for the foreseeable future.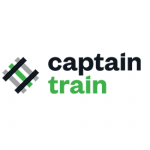 ---