We strive to help entrepreneurs help themselves so they maximize their chances of making a good first impression in the limited time we all have. We are laying out here the information we require to start the conversation about investing in your startup.
The fit
First make sure your company aligns with Alven's strategy and positioning: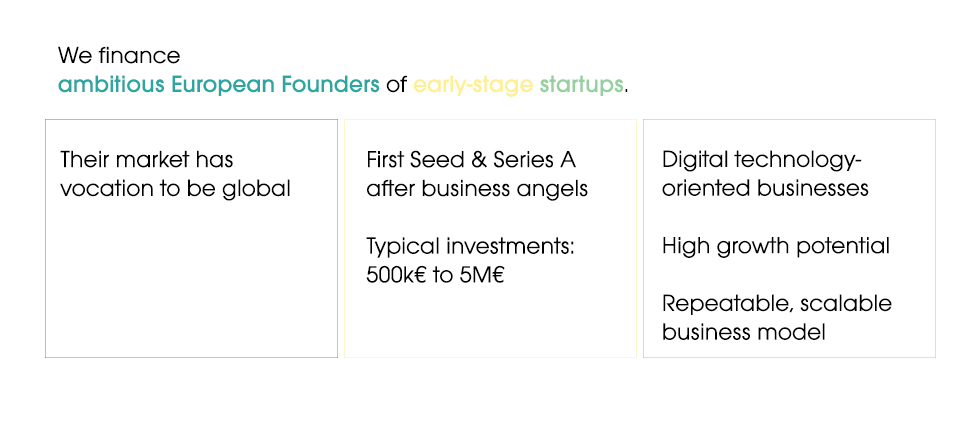 Our process
The deal flow goes through a selection and validation process of several steps, along which we dedicate increasing amounts of time and scrutiny to your startup. Entrepreneurs present us with their plan at three separate occasions, after each of which our team deliberates in an internal committee to decide if we pursue to the next stage. Finally we either decline or offer a term sheet and perform a thorough audit of your company to finalize the investment.
The information we need
First, we look in your pitch deck for the answers to the obvious questions about your company:
Founding team: Highlight relevant entrepreneurial achievements
The product: What is it? What does it do?
Examples and concrete use cases: Describe clearly typical users and use cases
Market: Qualify your target and total addressable markets
Competition: List the various types of competitors, ideally by size, geography and type
Commercial Strategy: Which steps will enable your startup to conquer this market?
Milestones: Main KPIs, benefits and earnings for up to the past 3 and next 3 years
Business model: Compare with known startup models, marketplace, e-commerce, SaaS…
Business plan: One slide to highlight the financial plan
Financing needs: How much are you raising
Common mistakes to avoid
You only ever have one chance at a first impression. In essence: preparation is key, project professionalism, and convey why you are not only good, but the absolute best at what you do.
Be introduced
Invest time and efforts to earn a warm intro if you can. Trust in business is hard-earned and transitive.
Show up with your core team
The best impressions are made by groups of 2 or 3 co-founders, as they are able to convey in person their ability to attract business partners, generate trust and work as a team on a shared vision. Lone founders are always an option we consider, but we will scrutinize their ability to attract a team around them and to work closely with outsiders when the business will demand it.
Know our language
We expect our entrepreneurs to demonstrate an excellent command of the business metrics that enable efficient piloting of a high-growth company in a competitive landscape, not only the understanding of the technology, or raw ambition to succeed.
Don't hold back
Don't be afraid to divulge the recipe to your "secret sauce". We see recipes of the "secret sauce" every week. We aren't out to steal your recipe, we are out to identify the best cooks and build with them the largest restaurant they've ever worked in.
Safety is in numbers
We expect you to have concrete evidence to support your plan. By concrete we mean with numbers backed up by early adoption analytics, research or testimonials by trusted industry insiders. Have a sense of your CAC, LTV, GMV, market size, as well as the various exit strategies that you envision in mid- and long term. And also use numbers to illustrate the technical aspects that set your product apart from the competition. Is it cost savings, performance boost, addictiveness, clickability, attention generated, conversion rates?
Basic presentation tips
Make sure to rely on a deck for your presentation.
Stay within the timeframe set for the meeting.